Backwater Valve Installation Costs
Installing a valve with a new system costs about $125 to $250. Retrofitting a new valve into an existing system costs more. In that case, expect to pay around $500 to $1,000. Installation is a plumbing and sewer job. Make sure to hire a professional backwater valve installer by calling Reliable Plumbing and Drain in Tampa, Florida.
What is a Backwater Valve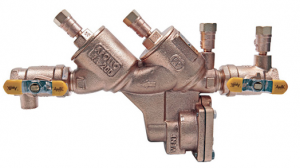 Pictured above: Reduced Pressure Zone Assembly (RPZ) The RPZ is the only backflow prevention device recognized by the Irrigation Association to provide enough protection against health hazard contamination through the underground sprinkler system.
These costs are the homeowner's responsibility. They will also need to get a regular inspection. Many states require this yearly. An annual test costs around $125. Reliable Plumbing and Drain provides expert Tampa, Florida residential, commercial, municipal and industrial plumbing, drainage, and foundation waterproofing services. With over 10,000 customers since 1999, we have a Better Business Bureau A+ rating and are a multiple recipient of the Angie's List Super Service award.